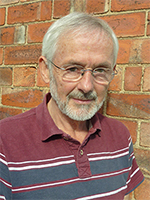 David has been a member of CCCF for over 10 years now after he and his wife Lesley 'bumped' into some CCCF'ers in a neighbouring village to Grantham, discovered the best kept secret, and immediately joined this unique fellowship. They have since enjoyed many rallies around the country and the brilliant National Holiday Rally held annually at Spring Bank Holiday.
David and Lesley have always camped as a family, bringing up 5 small children when money was tight in those early years; they later moved up to 'posh camping' and bought a Pennine folding camper some 15 years ago.
David is our National Treasurer. Seventeen years as Treasurer of his Baptist church in Grantham provided the skills needed. He is an Electrical Engineer by profession, having spent his whole career in the electricity supply sector, and still does some consultancy to maintain his professional contacts here and overseas.
David, as well as a leader in Grantham Baptist Church, also serves as a trustee/ director for several other local charities ranging from providing meals and financial help to the homeless and vulnerable, a county wide Credit Union, to supporting a worker in primary schools and pastors in Moldova.