Children and Youth
9.30 - 11.30 & 8.30pm till late | Saturday - Friday | Various Locations
The Children and Youth will be catered for in Various different age groups. Starting with WOW! for Reception Classes, Champions for Years 1 - 5, Sprite for Years 6-10, and Youth from Year 10 upwards!
WOW!
Debs and Sid Bridges live in Peterborough and have been involved with CCCF for around 10 years. They head a community project called Prodigal Collective that 'seeks to connect people to themselves, to others and to the Divine'. They have 7 children (aged between 5-17years) and have a passion for children, a crazy love for God and also for exploring what it means to live for Christ in the world.
Sid loves to be outdoors on bike, on foot or on his SUP or in the gar-den creating something out of a pallet!! Debs loves to write and run but is often distracted by the need to cook, clean, wash, tidy, colour in, play and read stories! They both love that they get to share so much of life together with their family!
Champions
Champions is our group for children in school years one to five and will be led again this year by John Hardwick.
God says we are all Champions.
John has written several books and hundreds of songs and he works under the banner of Counties and Barnabas! We hope John will bring his sidekick Doug and of course Charlie the cheeky monkey!
All the morning sessions will be action-packed, full of fun and games, many of the hundreds of action songs, exciting stories and also small reflective groups.
Sprite
Paul is a primary school teacher and father of five lively children. Paul and Hannah live in lovely Wigan, Greater Manchester, although she always says Warrington as she thinks it's posher... she's from Leeds so knows nothing about the finer arts of all things Lancastrian. Paul enjoys going for walks with the dogs. He loves sports like football, F1, tennis and cricket. They have been coming to CCCF for 15 years and love the fellowship and variety it offers. Paul loves reading his Bible and encourages others to enjoy it too - this spills over into local preaching, the curriculum Paul has organised in his school as the RE co-ordinator and videos he has made for the internet.
Paul is excited about working with the young people as he recognises the huge potential they have in reaching others for God and living lives that impact the world and glorify God. The programme at Sprite will be fun filled, interactive, educational, energetic and provide opportunities to develop skills in communicating the truth of God's Word.
Youth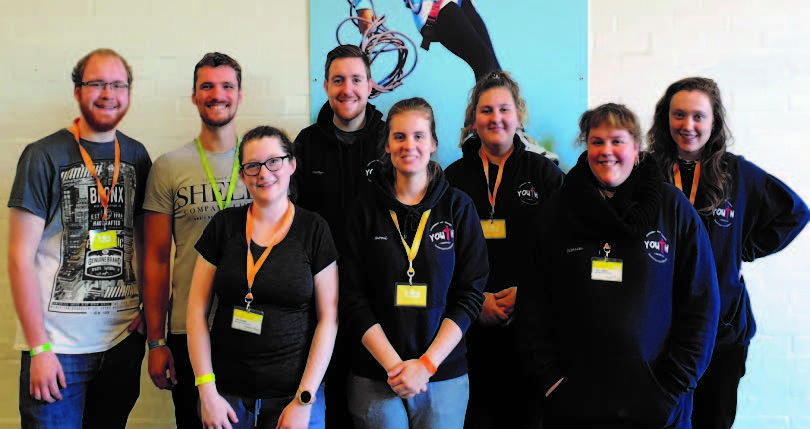 CCCF Youth (Year 10 up-wards) will be meeting every evening at SBHR for a wide range of games, challenges and worship led by our familiar faces. If you're new to CCCF or to the youth group, the team – Martyn and Rich and helpers – look forward to meeting you.
Having once been part of the youth group themselves, between them they know every trick in the book when it comes to card games, staying up all night, strutting their stuff on 'Just Dance' and making your money go furthest at the tuck shop. The week will consist of the usual madness and mayhem that goes hand-in-hand with the CCCF Youth, from mind-bending quizzes to indescribable activities and challenges, not forgetting more focussed times of worship, prayer and study each night. Together the youth team aim to create a welcoming and inclusive space for all young people at the rally, providing the opportunity to build friendships as well as be supported on your journey of faith, whatever stage you're at.