Paul Wells - General Secretary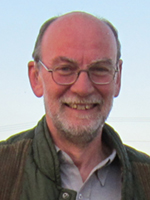 General Secretary to CCCF, when he joined CCCF he had a full head of hair and his beard was ginger not grey!
Paul is married Paula, they have two married daughters and four grandchildren.
He is on the leadership team of Garstang Free Methodist Church where his main responsibility is practical ministry to facilitate the mission of the Church to make disciples of Christ.
He is a retired engineer trained in process control and automation, prior to retiring he had a small business maintaining equipment for carrying loads up and down stairs and into awkward places.
Paul and Paula enjoy touring the UK in their campervan, they also love walking in the Bowland Hills and South Lake District near to their home. Paul's other interest is tinkering with a couple of old motorbikes and his 1954 Grey Fergie tractor