Nigel Parrett - National Chairman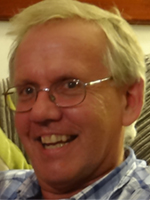 Nigel is married to Joy and has two daughters and three grandchildren. They met at University, were married in 1978 and they have been members of CCCF since 1984. Nigel has served numerous terms of office in CCCF, on the West Midlands Region Committee, the Council of Reference and the Spring Bank Holiday Planning Team, before becoming National Chairman. Both daughters are heavily involved in CCCF, being part of leading worship, Messy Church, games and the Youth. Over the years Nigel has been a Sunday School Teacher, Youth Leader, preacher and member of church councils both in the UK and while abroad.
Now retired, Nigel is a maths teacher and was a Deputy Head Teacher in a Church Secondary School in Stoke on Trent for many years; Joy is a History teacher and led a Humanities Department. Nigel is from Essex and Joy from Stoke on Trent, but they have lived in a village near Lichfield for about 30 years and worship at Wade Street Church in Lichfield.